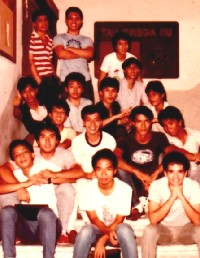 <!pic posted 14 sep 2003> Welcome to the Tau Omega Mu Fraternity and its Ladies' Circle residents, alumni and friends tambayan on the internet.

Tau Omega Mu Fraternity was founded in 1972 at the University of the Philippines Manila. It was founded as a brotherhood of leaders who aim to be outstanding in everything they do. Today, the organization has chapters in several universities and colleges in the Philippines. Its alumni are all over the world who still aim, and are succeeding in being outstanding in their chosen fields of endeavor.

With the internet and with this website, we intend to continue the fellowship that brought us together in our college days.
[21 Apr 2003] Congratulations to Bernie Fortes for being awarded the Outstanding Alumnus of The Holy Spirit Academy of Irosin (Sorsogon) at its Grand Ball celebrating its 40th Founding Anniversary. Bro. Bernie is currently the Chairman of Tau Omega Mu Philippines, Inc., the alumni organization of Tau Omega Mu Fraternity and its Ladies' Circle.
---
[21 Apr 2003] Congratulations to Diana Mahinay for being elected to the University Student Council of UP Manila for the 2003-04 school year.
---
[24 Aug 2002] Congratulations to the following Omegans who recently passed the Physician Board examination:
Dr. Nolan Aludino - UPM 1990
Dr. Allan Capote - UPM 1994
Dr. Donna Davinia Dolina - UPVTC
Dr. Ernestina Padre - UPM 1992
Dr. Wilfredo Benjamin Reyes - UPM 1991
Dr. Elwin Jay Yu - UPVTC
---
[10 Aug 2001] Congratulations to Levi Doronilla for being elected as the 2nd Year Representative to the UP Manila College of Arts and Sciences Student Council.